Animal welfare: Emerging concept and application that needs to be promoted in Viet Nam
HÀ NỘI — Despite being stated in the Animal Husbandry and Veterinary laws, animal welfare is a new concept to Vietnamese farmers and consumers, with a lack of application and understanding.
The International Livestock Research Institute (ILRI) and its partners have conducted research on animal welfare along the smallholder pig value chain in Việt Nam and found that while there is increasing attention from authorities on animal welfare, public knowledge and awareness are still lacking.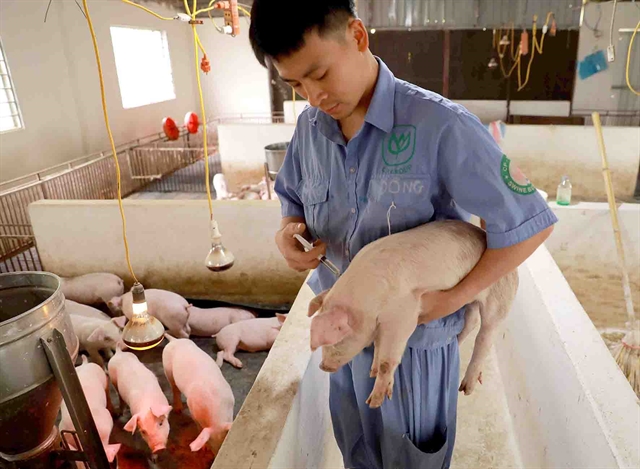 A piglet raised on a farm in Hà Nội's Đông Anh District gets a vaccine shot after being separated from its mother. Good health is one of four animal welfare principles, according to Welfare Quality assessment protocol. — VNA/VNS Photo Vũ Sinh
According to the research, three-quarters of the interviewed consumers had not heard of the term "animal welfare".
Dr Phạm Đức Phúc, Deputy Director of the Centre for Public Health and Ecosystem Research (CENPHER), Hanoi University of Public Health, said: "Knowledge about animal welfare is limited in Việt Nam, even among people working in the agricultural system. There are not many training programmes on this, which leads to misconceptions and not much public concern."
He said it is important for people in different sectors to understand the concept in livestock husbandry, companion animals, fisheries, and even wildlife.
Dr Fred Unger, Senior Scientist and Regional Representative of ILRI Southeast Asia, explained the simple definition of animal welfare, which generally refers to the health and physical wellbeing of an animal.
Some key aspects of animal welfare include that animals can have free access to sufficient and good-quality water and feed, he said, adding that animal welfare also refers to freedom from stress and fear, and natural behaviours, so that animals can express themselves as naturally as possible.
During transportation, we have some criteria that keep pigs in comfortable conditions, for example, not too crowded, he said.
At slaughterhouses, animals are treated with as minimal stress and harm as possible when they are in lairage or being slaughtered, such as using appropriate stunning methods. This will also contribute to meat quality and safety for consumers, he said.
The Welfare Quality assessment protocol developed and tested in Europe also mentions four principles of animal welfare: good feeding, good housing, good health, and appropriate behaviour under 12 criteria and several other indicators. ILRI researchers referred to this protocol in their surveys in Việt Nam.
Dr Đặng Xuân Sinh, post doc scientist from ILRI said: "If you follow good animal welfare in farming and slaughtering practice, not only animals but also farmers and slaughter workers will benefit due to appropriate human behaviours."
It means if you keep and handle animals well on the farm and in the slaughter process, farmers and workers will benefit from animal welfare in terms of their good practice and mental health, said Sinh.
Animal welfare in practice
Due to lacking public awareness, the application of animal welfare regulations in Việt Nam has been limited.
Looking into the current situation of animal welfare in Việt Nam and based on field observations at the farm level in northern Hòa Bình Province, ILRI researchers found pigs in some of the surveyed farms have no continuous access to water, which is a crucial animal welfare condition according to World Organisation for Animal Health.
The Animal Husbandry Law states that animals should have places for rest in dry and clean conditions. However, observations from the study of ILRI found that pigs sometimes lie in excrement on concrete floors and open drainage.
Another critical practice from an animal welfare standpoint observed in ILRI studies is that pigs in some slaughter facilities are pulled by slaughtermen, who usually use an iron hook attached under the mandible. All pigs showed discomfort and vocalised heavily while being restrained by the hook.
All Vietnamese meat product importers, including demanding markets such as the UK, Europe, Japan and the US, have their own requirements that animal products must ensure "animal welfare". Experts said that the current livestock system conditions in Việt Nam need to be improved to better comply with animal welfare commitments.
Dr Hạ Thúy Hạnh, former Deputy Director of the National Agricultural Extension Centre, said in recent years, animal welfare has been mentioned more, especially in trade agreements that Việt Nam has signed with Europe and other countries.
Thanks to the recent concern of customers, the laws, as well as the sustainability of food industry policies, the animal welfare policy is considered an important part in the sustainable development of every livestock business. At the same time, breeders have begun to pioneer this trend, she said.
Communication campaigns
Despite a lack of knowledge among consumers and farmers about animal welfare, it is encouraging to see that they are eager to learn more.
ILRI found that slaughterhouse workers are mostly unfamiliar with the animal welfare concept, and no one teaches them about animal welfare, but they expressed their interest in learning about it, especially from experienced trainers and free of charge.
Research conducted by ESI Insights for World Animal Protection shows that up to 67 per cent of global consumers consider and prioritise animal welfare when shopping for food. Notably, for younger customers aged 18-35, this rate is as high as 83 per cent.
This shows that although the price is higher than that of conventional products, the products raised under the animal welfare model are still chosen by consumers.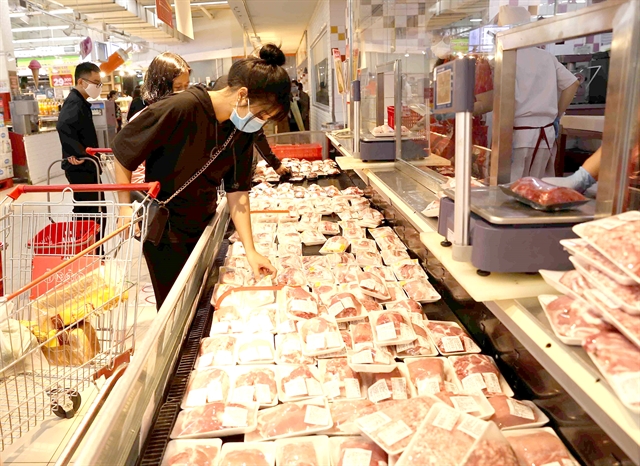 A customer chooses pork at a supermarket in Hà Nội. Consumers tend to prioritise animal welfare when shopping for food. — VNA/VNS Photo
Dr Phạm Đức Phúc, CENPHER deputy director, said consumers can play a key role in promoting animal welfare. Their views on animal welfare are important, as strong consumer demand for animal-welfare-production products could lead to changes in policy and practice, improving meat quality.
Consumers need to be made better aware of the negative aspects of animal welfare violations through wide communication campaigns, he said.
He recommended making road maps and action plans to improve capacity in professional research and improve knowledge on animal welfare at universities.
From the perspective of researchers, ILRI experts recommended that the design of farm and slaughterhouse facilities should be more integrated so that animal welfare is considered early in their planning stages. — VNS
Source: vietnamnews.vn